Don't worry, I'll get to the movie stuff soon enough. But first, there was a topic that I had on my mind that I wanted to explore: the best verses to be dropped in 2014. There's one verse in particular that motivated me to make this list, and I'll let you know which one it is. All these songs were released as singles or on albums this year. Leave a comment down below with any significant verses I missed.
10. Kanye West, Sanctified
It was a bit disappointing that Kanye wasn't able to finish his album this year, but he dropped a few gifts on us throughout the year, most notably this verse from Rick Ross' mediocre album Mastermind. Backed by a classic West beat and a memorable chorus from Big Sean, Yeezy delivers his trademark blend of boastful, poignant, and hilarious lyrics in only twelve bars. Despite a couple weaker moments (rhyming "sanctified" with "handkerchief"), this is a pretty interesting verse. And as a brief side note, Ross' verse was also pretty decent.
9. GZA, Ruckus in B Minor
I already talked about this song a little bit in my "Best Songs of 2014" list, but I never got to discuss my favorite verse: that of the Genius. While the other verses range from topics like "drug dealing" to "being good at rapping," and they're all pretty good, but it's the terminology GZA uses that really struck me. The beat slows to a crawl as GZA talks about astronomy and other cosmic jibber-jabber. The sheer scope of the verse is so fascinating, yet it still manages to tie back into the song, with some help from RZA.
8. Childish Gambino, Sweatpants (verse 2)
Childish Gambino is an artist who is constantly improving himself. He's released two albums in the past year, and a third in December of 2013, each one more acclaimed than the last. And this verse contains Gambino's witty, quirky lyrics at their finest. While this song is technically in character as "The Boy," there's still some decidedly Gambino lyrics in there ("Bring your girlfriend, man, trouble when I see her/err-err, err-err, onomatopoeia"). And whether this is flossing or an integral part of a concept album, it's still a great verse.
7. Lil Wayne, Only
This was supposed to be the year that the long-anticipated Carter V album came out. It's interesting that the Carter albums are consistently better than Wayne's other albums, even though he doesn't seem to be doing anything different. Regardless, Weezy honed in his skills this year in preparation, and dropped some pretty killer verses ("Believe Me," "Truffle Butter"). It took me a little while to decide which one would make the list. It's fast, funny, and reminiscent of Wayne's heyday of Tha Carter II. It actually got me kind of excited for that album that might never come out.
6. Andre 3000, Benz Friendz
People frequently say Andre 3000 is one of the best rappers of all time. In fact, I've never seen anyone disagree with that statement. So naturally, any contribution from him is appreciated. But his deadpan delivery and complex flow on this track are especially notable. I don't really have a lot to say about this verse. It's just Andre doing what he does best.
5. Pharrell Williams, Move That Dope
Another fast and dextrous comeback verse, this one from the current king of pop (all of a sudden), Pharrell Williams. Yes, there was a time when Williams was a rapper, not to mention a pretty good one. He briefly had a supergroup with Kanye West and Lupe Fiasco called Child Rebel Soldier, but they tragically disbanded because they were simply too good for this world. Anyway, Move That Dope. Pharrell was worried about contributing to this song since he never actually sold dope, but ultimately, thank god, he agreed. Future and Pusha also have pretty good verses, but Pharrell steals the show.
4. Kendrick Lamar, Untitled
This sociopolitical-minded song was unveiled on one of the last episodes of The Colbert Report. Kendrick's released a lot of good singles and guest verses this year, but ultimately, I think this trumps them all. I don't know if it'll be featured on his next album. Quite frankly, I suspect not. But it's a powerful song nonetheless.
3. Big KRIT, Mount Olympus (verse 2)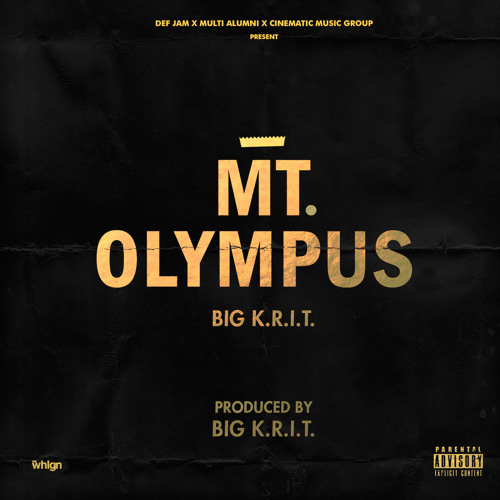 I can't even begin to describe how good this verse is. Listen to the song. Just do it.
2. Nicki Minaj, Flawless
Four years ago, Nicki changed the game with her verse on Kanye West's Monster. Many argue that she's never been able to live up to that verse. If that's the case, this is the closest she's come since. Like on Monster, Nicki pulls out all the stops, goes through about ten different voices, squeezes in a lot of clever wordplay, and drops a damn near flawless verse.
Before we get to #1, here's a few honorable mentions:
Eminem, Shady XV
Big Sean, 4th Quarter (2nd verse)
Lil Wayne, Truffle Butter
Yelawolf, Twisted
E-40, I Don't Fuck With You
Jay-Z, Seen It All
J-Cole, Fire Squad (3rd verse)
And the greatest verse of 2014 is…
1. Eminem, Calm Down
Eminem has improved himself quite a bit since he hit rock bottom on 2004's Encore, and this was the first year where it seemed like he was really getting back into the swing of things. And while his SHADYXV album (and make no mistake, it's his album) was a deeply flawed project, this verse is pretty much perfect. I also have to give props to Busta Rhymes, who performed admirably and was tragically overshadowed by Eminem. If you need any proof that Marshall's still got it, listen to this song.
I'll have the movie list up either tonight or tomorrow. In the meantime, like this post if you like it, follow me if you like me, you can also follow me on Twitter @BreakingPOORLY, and as always…
liek dis i f ucr y everyiem.